Washbasins for Luxury Bathrooms: 8 Major Types to Choose from
Your home cannot be complete without a functional, well-structured, and aesthetic wash basin.
If you have a sense of luxury and art, your bathroom will most likely be a reflection of your tastes. With its aesthetic beauty and excellent functionality, a designer washbasin can improve the look of your dining space or bathroom.
However, most people ignore the importance of a washbasin while renovating their home. We know, choosing the right basin can be a bit challenging especially when you want to blend taste and style with the architectural elements. There are so many choices on the market and so many things to consider. However, things go easy as long as you remember the basics. Here are some of the different types of wash basins that you can choose from:
Different Types of Bathroom Basins
There are various types of basins. Regardless of the materials, art basins, box basins, counter basins, pedestal basins, and wall-hung basins are the major types in terms of design and functionality. Let's delve into the details of these basin types

1. Art Basin
Art basins are the latest inclusion in the realm of marble-coated washbasins. These basins mainly focus on the aesthetically pleasing look of the bathroom. Most of these basins are countertops with a gentle touch of white, golden, silver, black, and other stylish colors. The ceramic surfaces of art basins are not easily susceptible to scratching, impacts, and chipping and can hold their new-like shine for an extended period. You can choose an art basin of different sizes, such as oval, square, rectangular, and more.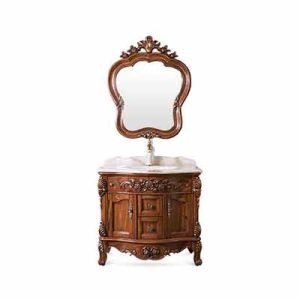 2. Box Basin
You can maximize your bathroom storage options with a box basin. A stylish vanity unit equipped with a stylish mirror and washbasin can make the perfect box basin combination for your bathroom. Box basins offer a variety of storage solutions, and the basin on top provides a great deal of functionality.
The wooden structure of the bathroom vanity, the stylish bathroom faucet, and the mirror cabinets of different styles and shapes create a vintage vibe inside the bathroom. You can also choose from other materials like glass, aluminum, wood and glass, wood and granite, and more. No matter what type of box basins you choose, they will surely speak of a great sense of style.

3. Counter Basin
Recent years have seen a spike in the use of minimalism in bathroom design, and countertop basins have played a pivotal role in this shift from conventional designs to contemporary designs. Counter basins are available in many shapes and styles with high functionality. Some counter basins are semi-recessed, having a part of them partly sunk into a table, vanity unit, or worktop. You can choose a countertop basin to add a gentle touch of richness to your bathroom design.
4. Pedestal Basin
Pedestal basins are one of the most common basins that are found in our neighboring environments. These basins are fixed against the wall, and a long pedestal is used to conceal the pipework and enhance the beauty at the same time. You can choose from a wide range of freestanding pedestal washbasins since this is a popular type of basin across the globe.
5. Wall Hung Basin
If you have a small bathroom, wall-hung basins are the best choice. They're great space savers and fit easily into smaller bathrooms. These wall-mounted basins have a little space underneath the basin, which helps them make an impression of greater space in the bathroom. In most cases, wall-hung basins are mounted to the wall with a matching white ceramic semi-pedestal or a chrome bottle trap. The former one is more popular now since they're more stylish and easier to clean.
Besides, the porcelain materials are smooth and robust, capable of resisting rust, dust, and discoloration. You can also choose wall-hung acrylic basins. These basins are comparatively lightweight and scratch-resistant.
Other Types of Basin
Other than the washbasins mentioned above, a few less popular types of basins are available in the market. Keep reading to get a brief introduction to the following three types.
Washstand Basins
Washstand basins are available in both traditional and modern styles. Their specialty is they expose the floor underneath and create extra space in the bathroom. A frame holds the basins against the wall and the floor. Typically, only the basin is ceramic, and the frame is made from metal.
Corner Basins
As the name implies, corner basins are placed in the corner of the bathroom. They're constructed in a way that they fit perfectly into a 90-degree angle corner of any room. Small bathrooms, especially those with limited space, benefit from corner basins.
Recessed Basins
A recessed basin is not a standalone piece of home equipment. It associates ledges, vanity units, shelves, or other related bathroom furniture with its setting. These basins are perfectly streamlined with the top surface of the coordinating furniture. The countertop is cut carefully so that the basin can fit snugly around the bathroom furniture.
Types of Basin Materials
Yes, bathroom basins come in many shapes, sizes, styles, and functionalities. What about materials? A regular basin and a luxury basin differ largely in their materials. Materials of high quality result in high-end basins that are affordable only to a specific class of people. Let's know what the materials used mostly in washbasins are.
Ceramic
Porcelain
Natural Stones (Marble, Granite, Travertine, etc.)
Stainless Steel
Bronze
Resin
Glass
Wooden, and more.
Now that you know the basics of almost all types of bathroom basins, you can choose the right one as per your needs and budget. You can select a luxury basin tailored to your demands to enhance the look and functionality of your bathroom. SWISH Global offers a wide range of premium bath and kitchenware to help you choose designer washbasins at the best prices. Browse our website to find out aesthetically pleasing and highly functional basins for your luxurious bathroom.